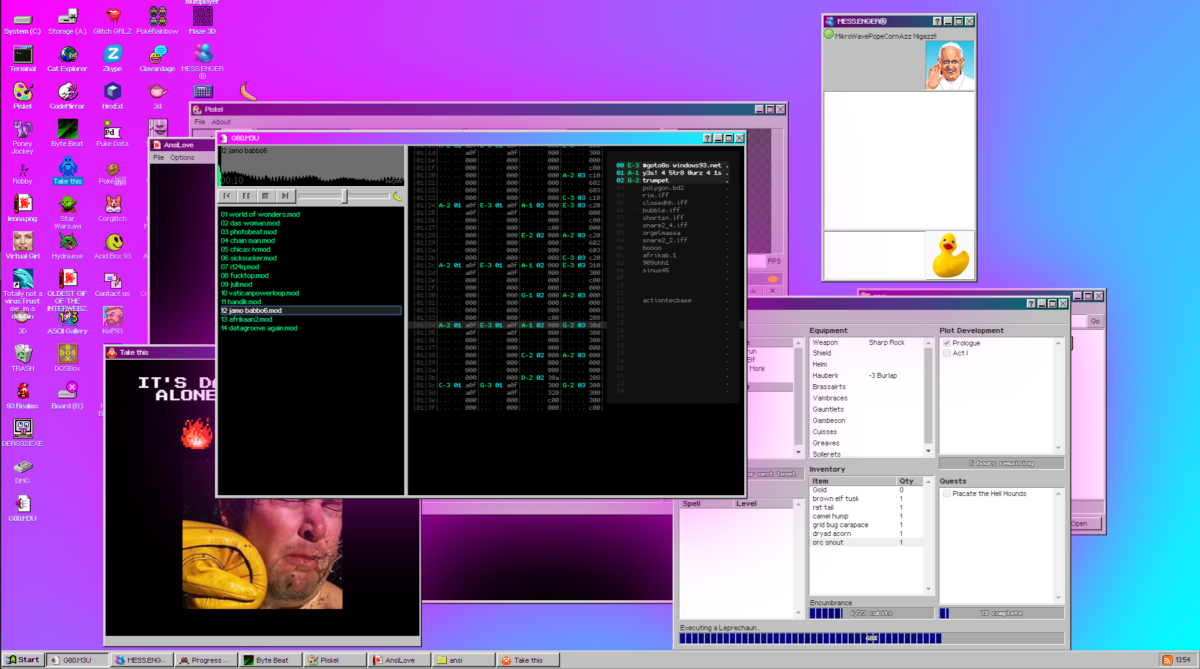 Welcome to my webpage
I release and perform music using 1980's computers (and other things) usually somewhere between pop-ambient and acid-funk-hardcore. I also do art and research about old (new) media and its aesthetics, politics and cultures.
You can keep up with me through fax, RSS and even an electronic cyber newsletter:
Me, the robot and PET.CORP will do an audiovisual live set at Spaceblanket in Hong Kong on March 2! It's part of an exhibition by PET.CORP and it also involves a celebration of our Shirbum album+shirt project. More info here.
If you missed out on the Shirbum album/shirt before it was too late, you can sign up to a waiting list here. Basically, if there's enough people who want one, it would be possible for us to make another batch.
(And if you did order one but didn't get it yet – bare with us a little bit more. Almost there!)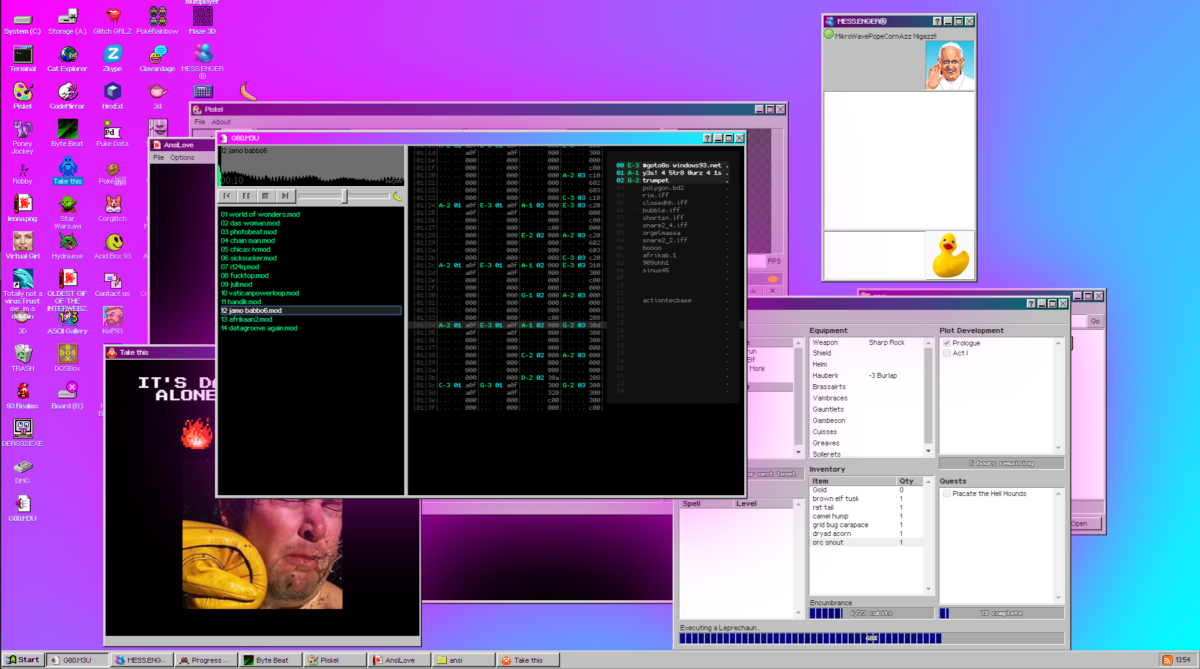 Hey look, I released an album in an operating system website!? Play this album on windows93.net and also see how I've sequenced the songs, as they scroll over your screenz. All the music was made in Protracker on Amiga, mostly with out-of-tune samples that I found on old sample disks to get that good ol' home computer vibe.
Eventually this will be out on cassette as well, so sign up here if you don't want to miss out.
In 2016 we released DUBCRT – a C64-cartridge with interactive audio and PETSCII-visuals, as well as a Bandcamp-release with remixes. The cartridge had some hidden features, among them a remix-mode where all the songs could be severely decomposed.
Yesterday, it was cracked by the notorious C64-group Triad so now it's free for download. Not only is it free, but there is documentation and a +3 trainer that gives you instant access to the remix mode, as well as cheats in the sort-of-hidden game. And of course, a crack intro.
Das ist alles gut! That's exactly what we were thinking when we gave the DUBCRT to them. It means that DUBCRT has been transformed into something else.
From object to software. The original DUBCRT software-on-hardware is a pretty unique object that we spent quite some time to research and design.
From commercial to free. DUBCRT is still for sale (a new batch was just made) but Triad has now set it free.
From art to crack. This is no longer an art work that we made, but a crack that Triad made. They were the ones to set it free and "improve" it so on CSDb the praxis is to give all the credits to the crackers.
This means that DUBCRT has been lifted out of some kind of music/art world, into the scene! I've always been intrigued by the border between scene and non-scene, and played around with it before. In fact, I've spent quite some time on researching CSDb for an academic article that should be published in a journal later this year. How does CSDb work as a collective memory machine? But I'll get back to you on that.
Now enjoy free data and kick out the jamz.