http://www.youtube.com/watch?v=fQEw602X6F0&feature=share&list=PLkkD_97Wy253GB-yj2foKlEbUMx5G2ns7
This is a 20-minute musical performed by me, 4 musicians and Raquel Meyers. Uwe Schenk rearranged my songs for bass, saxophone, harpsichord (spinet) and drums. Raquel animated the story with text graphics, and sequenced it live.
Most of the songs are tightly arranged, but others are quite improvised. I used a tracker to change some songs on the fly, and also played the C64 as a piano using Cynthcart. Quite a challenge to be as pro as the Uwe Schenk Band!
The videos are available in better quality at Uwe Schenks website. The original songs are either unreleased, from here or Cherry CD or perhaps lurking around on internet2008.
Big up to Uwe Schenk and Dragan Expensiveshit for making this happen!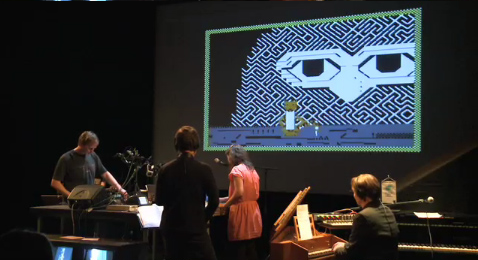 Some events coming up:
> 27 October: a very special live performance in Stuttgart. Together with Uwe Schenk and his band I'll perform along with text visuals by Raquel Meyers. Both songs and improvisations. Don't miss out! Read more.
> 10 November: live gig at Nalen (Klubb Escape) in Stockholm, with visuals by Raquel Meyers. Also performances by Dunderpatrullen and Djurpark.
> 14 November: Talk at the public library in Stuttgart, as part of the series Do You Believe In Users?. The point is to talk about the 8-bit underground from the perspective of the user, and explain why ideas like nostalgia, limitations and appropriation just doesn't cut it anymore.