I had a gig in Utrecht for the C-men's VJ Launch Party at Ekko, together with lots of elite headz. It was really good to hear Lo-bat's tight Gameboy drum'n'rock again, and to get some of Jeroen Tel's good ol' melodic C64 funk. Gijs Gieskes showed some new weird thingies with Sega and Gameboy and all of that – extremely good as usual – and Otro provided some of his magical pixels. And DJ DMDN again. The C-men is Da Groovy Selekta!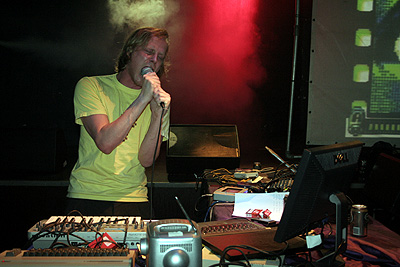 Photo by Rosa Menkman
After the gig I missed the train and the morning after I missed another train, but in the evening I magically found myself in Paris nevertheless, to do a show at Fuck You I'm Furious at La Java Club. In Utrecht I destroyed two C64s and in Paris I destroyed a third one, so this was a nice jackpot for me. I stayed with Sidabitball and had a quick peek on his amazing projects which are yet to be revealed, maybe. We went to do some very hot undercover data sightseeing at the mo5. In Paris I was also fined, burned, crepped, mugged, stripped and buried. Hello, here are my photos.
Tags: otro