This weekend, the new edition of the Playlist exhibition starts in Brussels. I feel almost over-represented as I've contributed to exhibited works by James Dingle, Entter, Raquel Meyers, Mats den Andre, Erik Nilsson, Boogerlab and also in Rosa Menkman's video with music made under the name Extraboy. Still, it seems to be a great exhibition. See it now! Also, there's three live-shows coming up, with visuals by Raquel Meyers and a hacker-jam-workshop thing at a hacker space in Malmö.
June 4 @ Dance to the Bit, Rotterdam, nl w/ Flex Busterman, Computadora, Je Deviens DJ En 3 Jours & Microtterdam DJs. I'll play an early ambient-ish set.
June 5 @ Crackbits 2.5, Tilburg, nl w/ Flex Busterman, R10T33R, Gameboys A Gogo.
June 11 @ Tresor, Berlin, de. VisualBerlin festival w/ e.g. Stu, Tonylight, Decrepticton, Notendo, Lance Blisters. I will also do a workshop/lecture here, and some undercover tom-foolery.
June 19 @ Hacknight #2, Malmö, se. Me and Glenn Again will improvise with Defmon and other secret C64-softwares, but also make a workshop entitled "Beyond bleep-blop: C64 as music monster". Sign up for it here.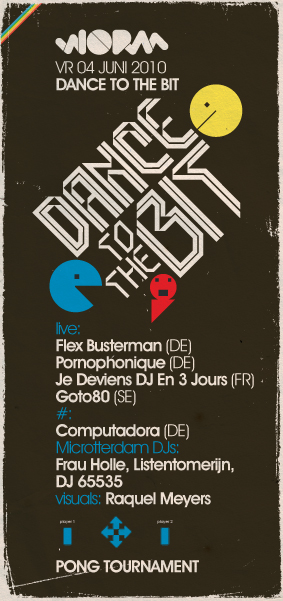 Tags: raquel meyers