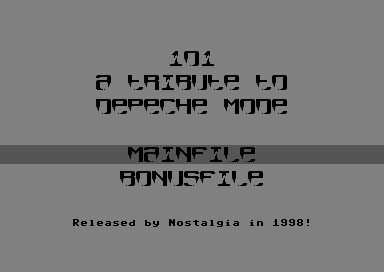 Spice Up Your Life by Triad (C64-demo, #1 @ LCP1998). The first time I collaborated with the mega boy Hollowman and the notorious Triad. I remember good ol' Jerry (the legendary 60+ leader of Triad) thought my music sounded like something was wrong. Excellent!
King Kong 3 by Goto80 (C64-music, #3 @ LCP1998). Also known as Drum n' Bajs, I think.
Album of the Year by Nostalgia (C64-musidisk, 1998). One of the songs from Monkeywarning is in here.
Half Baked by the super oldie group Warriors of Wasteland (C64-demo, #3 @ X'1998)
Newspress #18 (C64-diskmag, 1998). I was really satisfied with this track back in the days. It's still kind of special to me. It's sort of dark, but not super experimental or anything. Melodic. Blabla.
101 – A Tribute to Depeche Mode by Nostalgia (C64-musicdisk, 1998). Boys say go, got damnit!
Star Truk by Maniacs of NES (C64-musicdisk, 1998). Me and Mindflow's little project, that is probably lost forever. Contained my covers of NES-music, and most of it can be found in the Lofi Mono Festival cassette. Hm, which probably can't be found but then you could get Commodore Grooves and find them there instead. Phew!