ASCII graffiti combines computer culture with street culture by spraying text graphics on to physical surfaces. By cutting out stencils from old low-res computer typefaces, it can mimic the classic look of 80's and 90's text graphics like ASCII and ANSI – and plenty more.
In the 1990's I did traditional graffiti in the streets and ASCII art on the computer and after starting with the TEXT-MODE blog, I was inspired to combine the two. The first attempt was made in 2012, when I did a PETSCII-background for a friend's graffiti piece. Luckily, not many photos exist from this midnight madness. But in 2014 I finally made my first proper ASCII graffiti, almost simultaneous to Braintree's gigantic ASCII advertisements in USA. Only mine was painstakingly made by hand.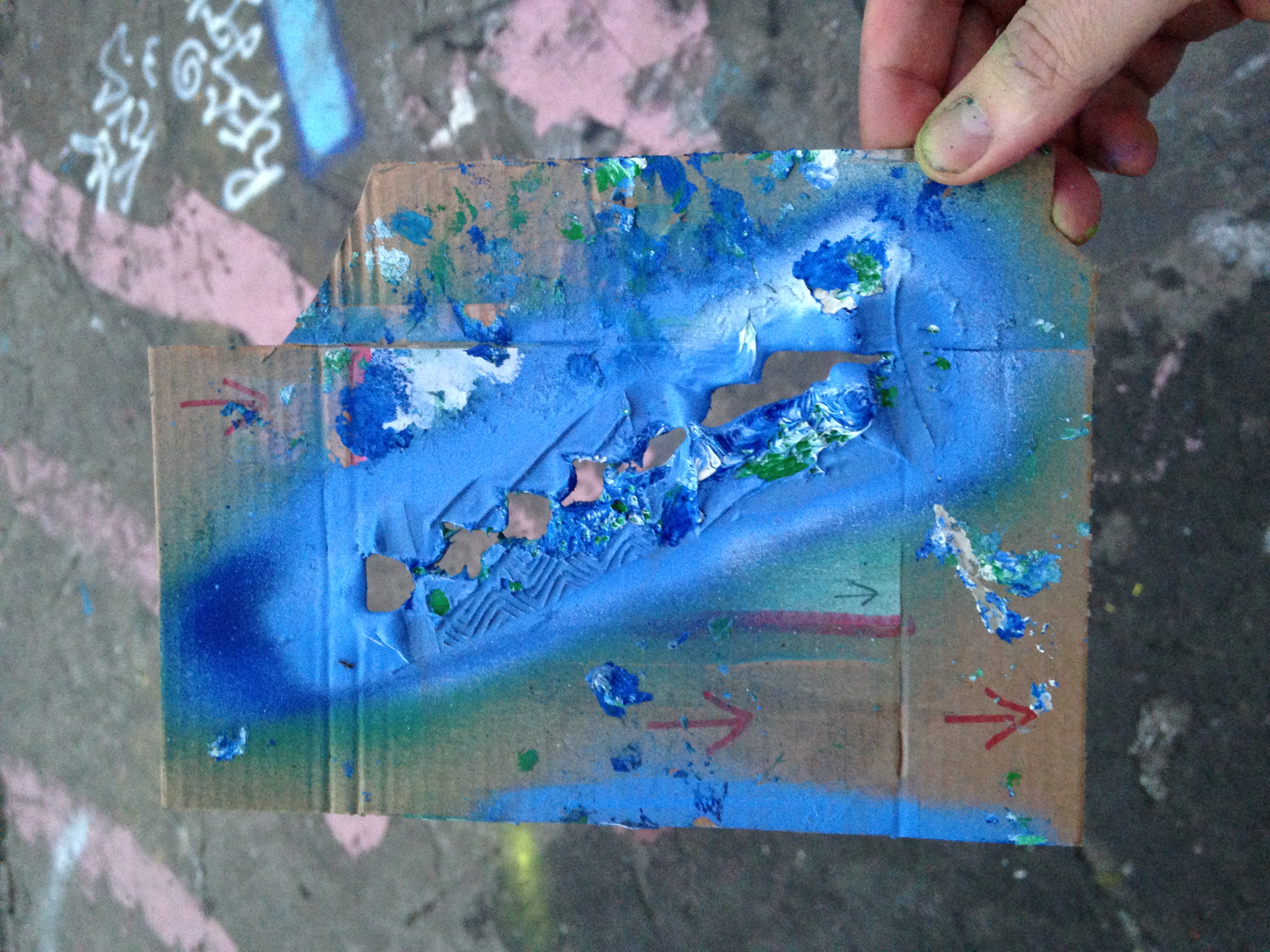 This one was made by cutting out stencils in pizza boxes. The design was made by Spot as a logotype for the site asciiarena.com. It was painted on a legal wall at Röda Sten in Göteborg, but there were still hardcore graffiti writers there, threatening people with knives.
▗ Just Another ASCII on the Wall
A second attempt, also painted at Röda Sten in Göteborg. This time without knife threats, but I managed to cut myself instead.
This one uses the same mO'sOUl Amiga font as the previous work, but this time the characters are little bit smaller.
A co-op piece with Zaner, a notorious Amiga ASCII artist. It was made for the text mode art exhibition at Platine Festival in Cologne, Germany, and we used one of its more classic spots.
This was the first attempt to mix the strict ASCII style with traditional free-hand graffiti. Me and Zaner did all the work and design except for the green character, designed by Mortimer Twang. All of us are part of the same Amiga scene group, Up Rough. Made in July, 2015.
A timelapse animation of a piece painted in Varberg, Sweden. A custom song was also composed to fit with the video. Made in June, 2016.
Maybe not really gifitti, but you can dig it!
This started as an excuse to finish a bunch of nearly empty cans. It's an experiment to position and rotate the stencils freely, without a plan, without a purpose, on top of whatever was already painted on the wall. Some good looking details, at least? Made in August, 2016.
A little experiment made in September 2017. Using onyl four stencils, with one designated colour for each one. More improvisation than I normally do, and I also played around with the intensity of the colour, by varying the pressure of the spray can.
Made in November 2017 at Truckstop Alaska, one of the finest venues in Gothenburg.