Ok, three shows in Holland in January, the week after Belgium. When arriving in Holland my suitcase was even more broke than before, and when soundchecking for the first show I noticed my laptop-screen had 1% light in it. So I had to use a tightly operated lamp to see the screen for the rest of the tour. Error flow! The first night was at Studio80, Amsterdam with DMG Plantlife, DJ Monza and the C-men. Good shit, and I especially liked the Gameboying my mister DMG. Very nice slow but pumpy experimental beats, live jammed and just very far from your standard Gameboy music. In Amsterdam I also went to see the Bodies exhibition, which was amazingly interesting! It was especially funny that they saved bellybottoms and asses. What wasn't so funny, was that all the bodies were actually Chinese…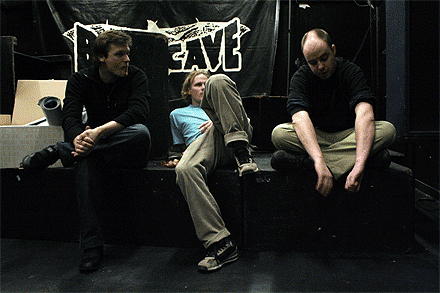 DMG Plantlife + Goto80 + C-men. Photos: Rosa Menkman
Rotterdam next! Poing and gabber and Clone! The venue, Worm, was a really nicely decorated place and the building went back hundreds of years and harbour hardcore massive commerce blabla. Also playing were DMG Plantlife, Jeroen Tel, Pornologic, dmdn and C-men. I also made a TV-interview this night. The DJ-set of dmdn was really great, doing one of the best 8-bittish hardcore sets I've heard live.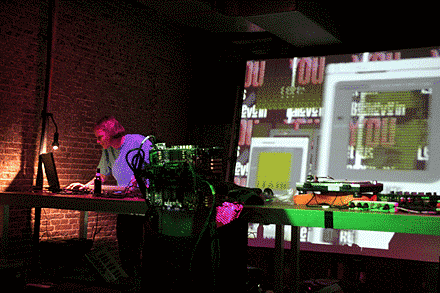 me playing live. note the laptop-lamp! Photos: Rosa Menkman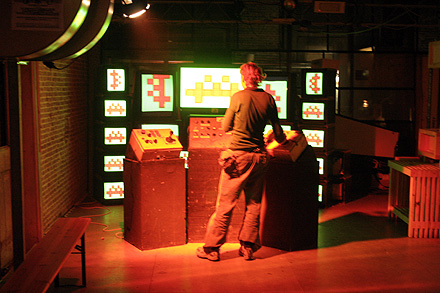 Worm machine. Photos: Rosa Menkman
Next day it was off to Tilburg and 013, a huge venue where you could easily get lost and locked out and god knows what. I enjoyed the dancehall party next door, which was like stepping into another universe. Living on MTV!?
Photo: Rosa Menkman